About Dean Cortez
My name is Dean Cortez. I'm a best-selling author and dating coach. I've written a series of books that are designed to help men become more successful with women. My programs include Mack Tactics, The Bad Boy Blueprint, and How To Approach Women.
Here's the other interesting thing about my history. As I mentioned earlier, several years ago I wrote a popular book called Mack Tactics which teaches guys how to upgrade their skills with women, and become more confident and successful with dating.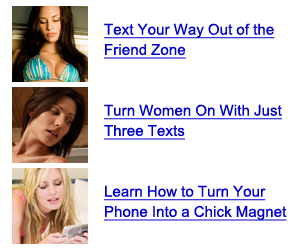 If you want to learn my most powerful pickup lines (these lines work with women from all countries), click here:
Much of the advice I give in that book is about understanding what really attracts women to men. And it's often not what you've been led to believe.
(Women have "attraction switches" that any guy can learn how to flip—and it has nothing to do with your looks or the size of your bank account. In a nutshell, it's about projecting the right masculine qualities that all women love, and knowing how to create sexual attraction instead of just being the "nice guy" that women just want to be friends with.)
I originally started learning these techniques by hanging around guys who were incredible "naturals"—who never had to worry about meeting girls or getting laid, because they seemed able to charm any woman they came into contact with.
These guys came from different backgrounds. Some were tall and handsome, others were very ordinary-looking. Some had highly successful careers; others were barely able to pay the rent. Yet they all had terrific instincts when it came to flirting with women and generating attraction.
They seemed to possess the "magic key" that made women want to sleep with them—while most other guys (myself included, at the time) were struggling to talk to girls, paralyzed by insecurities, and wasting our time and energy on bad relationships with the wrong girls.
At the same time that I was studying their tactics and techniques, an underground movement was forming on the Internet. It was known as "the seduction community." Thousands of guys around the world were gathering on websites and participating on message boards which were devoted to the "craft" of picking up women.
Guys would post their questions and talk about their experiences "out in the field," and the "pickup artists"—the guys who considered themselves experts in the art of seduction—would give their tips and write about their latest conquests. Sometimes this meant successfully picking up a "perfect 10" at a nightclub, or stealing a girl away from under her boyfriend's nose.
I spent years studying this material and developing methods of my own, and I became a guru in my own right when I published Mack Tactics. This book contained a powerful step-by-step blueprint which guys could use to make themselves more confident, attractive and successful with women—from achieving the right mindset and attitude, to mastering different techniques for approaching girls, starting conversations, and getting phone numbers and dates.
Some guys used "the Tactics" to enjoy one-night stands with girls every time they hit  the bars and nightclubs; others used their newfound skills and confidence to find the perfect girlfriend.
The book spawned a website, www.MackTactics.com, which to this day continues to offer new programs and resources for men who want to turbo-charge their dating lives. For virtually any situation you find yourself in with a woman, there is a typical response (which is how the average guy will behave), and then there is the "Mack" response—which means showcasing your confidence, charm and personality to increase her attraction instead of making her lose interest or blow you off. It also means knowing exactly how to overcome the challenges and obstacles that inevitably come up when you're trying to build a romantic relationship with a girl.
Right now, you might want to play the field and date a variety of sexywomen. Or, your goal may be to find the one perfect mate to spend the rest of your life with. Either way, I'm going to give you the knowledge and techniques to make it happen.
It's like the old expression says: "Give a man a fish; he'll eat for a day. Teach a man to fish; he'll eat for life."
This website is your guide to mastering the art of picking up girls so that you never go hungry again. You'll eat for life—or until you carefully select the one extraordinary woman who deserves you, as much as you deserve her.
How you use these powers is up to you…but however you choose to use this information, I guarantee you're going to have a whole lot of fun along the way.
Your Wingman,