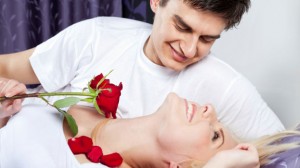 Sweet pick up lines can definitely come in handy when Valentine's Day is near. These types of pick up lines are best when your goal is to flatter someone and to make them laugh. Sweet pick up lines can serve as icebreakers to get a conversation flowing with date. Remember though, it takes self confidence and timing to successfully deliver a romantic pick up line.
Here are some examples of sweet pick up lines to get you started…
Can you kiss me on the cheek so I can at least say a cute girl kissed me tonight?
Are you sure you're not an alien? Because you've just abducted my heart…
Did the sun come up or did you just smile at me?  "Nice shoes, wanna come home with me tonight?"
Look at the tag on her top and say, "My mistake, I thought you were made in heaven."
If I had to re-arrange the alphabet, I would definitely put 'U' and 'I' together.
Excuse me, if I go straight this way, will I be able to reach your heart?
I don't know which is prettier today, the water, the sky or your eyes.
Are you lost ma'am? Because heaven is a long way from here.
The only thing your eyes haven't told me is your name.
People call me John, but you can call me Tonight!
If I followed you home, would you keep me?
"Hello, I'm suffering from amnesia… Do I come here often?"
"Do you have a twin sister?  Because I've seen you here before."
"Did you get hurt… when you fell down from heaven?"
"Were your parents thieves?  Because they stole the stars from the heavens and made them your eyes."
"Didn't I go to school with you?"
More Sweet Pick Up Lines
"Is it hot in here, or is it just you?"
"Hello!  Can I buy you a drink?"
"I think I know you from a past life."
"Your hair looks nice. What shampoo do you use?"
"I just lost my phone number. Can I borrow yours?"
"Do you feel tired? 'Cause you've been running in my mind all night."
"Are your parents terrorists?  Because you're the bomb!"
"Excuse me, is it alright if I borrow your mobile phone to make an urgent call?  I told my mum I'd call her if I fell in love."
"Sorry I didn't get you a box of chocolates for Valentine"s Day but if you want something sweet and smooth I'm right here."
"Hello. Cupid called. He says to tell you that he needs my heart back."
"Baby you're so sweet you would put Hershey's out of business."
"There are many fish in the Sea but you're the only one that's caught my eye."
"Hey baby, do you like a man that can carry big things because I have the biggest sweetheart I'll put a tear drop in the ocean."
Do you have a band-aid, honey? Because I scraped my knee falling for you."
"You've got to be tired, because you've been running through my mind all day."
"Apart from being sexy, what do you do for a living?"
"I've just moved you to the top of my 'to do' list."
"I may not be a genie, but I can make all your wishes come true"
"I'm like chocolate pudding; I look like crap but I'm as sweet as can be."
"Hi, I'm Mr. Right. Someone said you were looking for me."
"I hope you know CPR, because you take my breathe away."
"Do you believe in love at first sight, or should I walk by again?"
"I miss my teddy bear. Would you sleep with me?"
"I seem to have lost my telephone number, may I borrow yours?"
"I wish you were DSL so I could get high-speed access."
"I know I'm not a grocery item but I can tell when you're checking me out."
"Your body is a wonderland, and I want to be Alice."
"I'm sorry, were you talking to me? (Her: No.) Well then, please start."
"If you were the new burger at McDonalds you would be the McGorgeous!"
"Is your last name Gillette? 'Cause you're the best a man can get."
"If you were a booger, I'd pick YOU first!"
Make your Valentine's Day extra special and romantic with these sweet pick up lines. Valentine's Day is holiday that celebrates love and is observed by exchanging candy & gifts. Be less traditional by saying romantic pick up lines that will melt her heart and she'll realize why love is in the air on February 14.
Originally posted 2012-02-13 07:58:19.